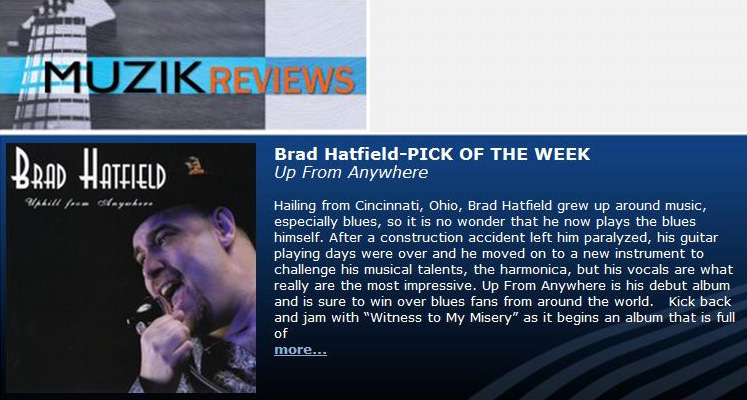 I thoroughly enjoyed it. Good tunes, singing and playing. I bet we'll be hearing more from him – Charlie Musselwhite

Uphill From Anywhere is his debut album and is sure to win over blues fans from around the world. "Witness to My Misery" begins an album that is full of consistently quality songs from the opener to the finisher.
– MuzikReviews.com PICK OF THE WEEK!

 Whiskey-soaked yet utterly soulful singer, seasoned songwriter and tonally taught harmonica player. – Big City Rhythm & Blues Magazine

…I not only thoroughly enjoy each and every song on it, but also look forward with anticipation to the next upcoming song; Brad Hatfield's "Uphill From Anywhere" is one of those rare albums. Hailed as one of the top Blues artists in Cincinnati, I wondered to myself if such a small geographic designation is appropriate for such a huge talent as Brad Hatfield… For "Uphill From Anywhere", I give it my Highest Rating of 5*****. Highly Recommended and Thoroughly Enjoyed.
– Blues Underground Network PICK OF THE MONTH!

Mr. Hatfield is a staple of the Cincinnati blues scene, and if this album is any measure, it won't be long before he'll be more widely known because he's got a really great voice and a soulful sense of the blues
– Chico News & Review

Hatfield seems poised to take on more than the McCoys at their liquored up best. Hot stuff contemporary blues fans that like it hot, heavy and traditional will love. On the money!
– MidwestRecord.com

He has become one of Cincinnati's premier bluesmen, and his latest CD, "Uphill From Anywhere," is a testament not only to his immense talents, but to his perserverance as well. "Uphill From Anywhere" is indeed a sweet listen!
– Nashville Blues Society

…Hatfield gets down with some really soulful singing.
– BMansBluesReport.com

Brad Hatfield is a very strong harpist / vocalist … to be discovered in Europe very soon.  Very strong debute!
– KeysAndChords.com

Brad Hatfield is definitely someone who I'm going to follow in the future. A real attraction.
– BealeStreet.be

…he is indeed a fine blues harmonica player, and he writes some excellent, personal material, but it is his voice that impresses the most when you really listen to this set. I hope we will be hearing more of Mr. Hatfield – and sooner rather than later, too.
– Blues & Rhythm Magazine

Brad Hatfield in Cincinnati has published one of the debuts of the year 2012 "Uphill from Anywhere". He wants to convince with his songs. And it succeeds him from the first note to. He is a bluesman in a rough and yet soulful voice. – wasser-prawda.de

What immediately stands out in the first number is "Witness To My Misery"  is Brad's raw, soulful voice and full harmonica sound. …Brad shows an absolute master on the harmonica.
– BarnOwlBlues.com
---
Domestic Airplay
KAFM, Grand Junction, CO
KAOS, Olympia, WA
KCOR, Mishawaka, IN
KDNK, Aspen, CO
KFAI, St. Paul, MN
KIOS, Omaha, NE
KKSM, San Marcos, CA
KMEC, Ukiah, CA
KMHD, Portland, OR
KNCA, Burney, CA
KNON, Dallas, TX
KRVM, Eugene, OR
KTEP, El Paso, TX
KZFR, Chico, CA
KXCI, Tucson, AZ
WDST, Woodstock, NY
WFDU, New York, NY
WRFG, Atlanta, GA
WVXU, Cincinnati, OH
WWSP, Stevens Point, WI
WWNT, Dothan, AL
International Airplay
STARFM, ST. Helens, TAS
Good Times Blues Radio, Buenos Aires, Argentina
105.7, Ridderkerk, Netherlands
CKIA, Quebec
CKRL, Quebec
ARIA, Herserange, France
Radio Carcoma, Madrid, Spain
VFM, Croatia
91.9, Bogota, Colombia
5EFM, Australia Wide!!
CKUA, Alberta, Canada